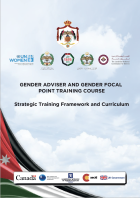 The training course on Gender Advisers (GENAD) and Gender Focal Points (GFP) in the Jordanian security sector is an essential element of developing the capacity of Jordanian Armed Forces (JAF) and Public Security Directorate (PSD) personnel to mainstream gender across all security sector activities.
قامت الهيئه بتطوير مشروع مشترك تحت عنوان «تمكين الشباب لتعزيز حقوق المرأه من خلال التطوع » بالتعاون معبرنامج الامم المتحده للمتطوعين، بهدف تمكين المتطوعين الشباب من كلا الجنسين للدفاع عن حقوق المرأه.ياتي اصدار هذا الدليل كأحد ثمرات التعاون بين هيئة الامم المتحده للمرأه والصندوق الاردني الهاشمي للتنميه البشريهممثلًا بمعهد الملكه زين الشرف التنموي كأحد مخرجات مشروع «تمكين الشباب لتعزيز حقوق المرأه من خلال التطوع .»يقوم الدليل على مجموعة من المبادئ والأسس القائمة على الواقعية، والتشاركية، والشموليه، والتراكمية، ومراعاةالثقافة المحليه، ومراعاة النوع الإجتماعي والبساطة وسهولة التطبيق
The overall objective of this study is to evaluate and shed light on the status of women in the ICT sector in Jordan as part of ensuring gender equality and women empowerment in the economic sector. A number of factors have been examined, including the quality and availability of education and training, and how well the educational system equips students with the needed skills; employment and entrepreneurship reality among women, and the challenges faced that hinder their effective participation in the workforce; and the challenges that women face in the ICT workplace.