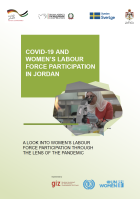 This study examines the effects of the COVID-19 pandemic on women's employment in Jordan, while investigating employers' willingness to hire women and women's motivation...
Developed jointly by the Jordanian National Commission for Women (JNCW) and UN Women, this report aims to present a critical evaluation of the recent macroeconomic and fiscal policy interventions in Jordan, in particular the tax reform, from a gender perspective. This report is generously funded by the Governments of Finland, France, Iceland, Italy and Zonta International, as well as UN Women National committees.
The overall objective of this study is to evaluate and shed light on the status of women in the ICT sector in Jordan as part of ensuring gender equality and women empowerment in the economic sector. A number of factors have been examined, including the quality and availability of education and training, and how well the educational system equips students with the needed skills; employment and entrepreneurship reality among women, and the challenges faced that hinder their effective participation in the workforce; and the challenges that women face in the ICT workplace.