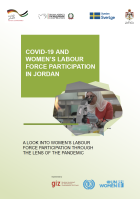 This study examines the effects of the COVID-19 pandemic on women's employment in Jordan, while investigating employers' willingness to hire women and women's motivation...
Developed jointly by the Jordanian National Commission for Women (JNCW) and UN Women, this report aims to present a critical evaluation of the recent macroeconomic and fiscal policy interventions in Jordan, in particular the tax reform, from a gender perspective. This report is generously funded by the Governments of Finland, France, Iceland, Italy and Zonta International, as well as UN Women National committees.
Radicalization has become a growing concern in Jordan, which remains stable amidst regional tensions but is not immune to radicalization threats. Women and Violent Radicalization in Jordan examines the gendered dimensions of radicalization and sheds light on women's and men's perceptions of extremism and its risks and causes in Jordan. This research will inform the development of Jordan's National Action Plan on Women, Peace and Security.