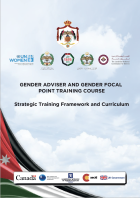 The training course on Gender Advisers (GENAD) and Gender Focal Points (GFP) in the Jordanian security sector is an essential element of developing the capacity of Jordanian Armed Forces (JAF) and Public Security Directorate (PSD) personnel to mainstream gender across all security sector activities.
Radicalization has become a growing concern in Jordan, which remains stable amidst regional tensions but is not immune to radicalization threats. Women and Violent Radicalization in Jordan examines the gendered dimensions of radicalization and sheds light on women's and men's perceptions of extremism and its risks and causes in Jordan. This research will inform the development of Jordan's National Action Plan on Women, Peace and Security.
Since March 2011, the internal armed conflict in Syria has displaced more than 4 million people within Syria and forced another 1.5 million to seek refuge in neighboring countries. As of May 2013, Jordan hosts more than 470,000 Syrian refugees, a number that has increased exponentially during the first three months of 2013 as the conflict has intensified and expanded to major cities throughout Syria.