With the adoption of the Minimum Set of Gender Indicators (a set of qualitative and quantitative indicators covering national norms and laws on gender equality and spanning dimensions such as education, employment, health, rights of women and girls...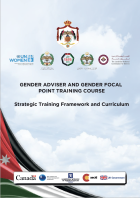 The training course on Gender Advisers (GENAD) and Gender Focal Points (GFP) in the Jordanian security sector is an essential element of developing the capacity of Jordanian Armed Forces (JAF) and Public Security Directorate (PSD) personnel to mainstream gender across all security sector activities.
The (2018-2021) Jordanian National Action Plan (JONAP) for advancing the implementation of UN Security Council resolution 1325 on Women, Peace and Security (UNSCR 1325), and its subsequent resolutions, was developed to respond to the country's latest security and military challenges. It is in line with Jordan's commitments to promote and respect human rights, justice, equality and participation.