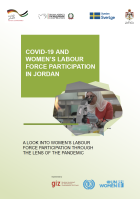 This study examines the effects of the COVID-19 pandemic on women's employment in Jordan, while investigating employers' willingness to hire women and women's motivation...
This research uses participatory methodologies to explore the experiences of diverse crisis-affected women around gender-transformative change in four humanitarian settings in Bangladesh, Colombia, Jordan, and Uganda. The study provides entry points and recommendations for Grand Bargain signatories to move towards gender-transformative humanitarian action by enhancing women's meaningful participation in humanitarian responses, and the localization of humanitarian action to women's rights organizations and self-led groups.
Developed jointly by the Jordanian National Commission for Women (JNCW) and UN Women, this report aims to present a critical evaluation of the recent macroeconomic and fiscal policy interventions in Jordan, in particular the tax reform, from a gender perspective. This report is generously funded by the Governments of Finland, France, Iceland, Italy and Zonta International, as well as UN Women National committees.