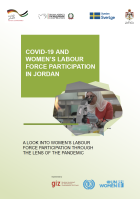 This study examines the effects of the COVID-19 pandemic on women's employment in Jordan, while investigating employers' willingness to hire women and women's motivation...
This research uses participatory methodologies to explore the experiences of diverse crisis-affected women around gender-transformative change in four humanitarian settings in Bangladesh, Colombia, Jordan, and Uganda. The study provides entry points and recommendations for Grand Bargain signatories to move towards gender-transformative humanitarian action by enhancing women's meaningful participation in humanitarian responses, and the localization of humanitarian action to women's rights organizations and self-led groups.
Radicalization has become a growing concern in Jordan, which remains stable amidst regional tensions but is not immune to radicalization threats. Women and Violent Radicalization in Jordan examines the gendered dimensions of radicalization and sheds light on women's and men's perceptions of extremism and its risks and causes in Jordan. This research will inform the development of Jordan's National Action Plan on Women, Peace and Security.