This brief highlights key findings from a small-scale time-use survey conducted by ARDD in April 2021 that address how women in Jordan perform care work, how they feel about it, and their perspectives and recommendations on how the burden of care work can be redistributed through social protection mechanisms and other policies.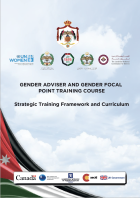 The training course on Gender Advisers (GENAD) and Gender Focal Points (GFP) in the Jordanian security sector is an essential element of developing the capacity of Jordanian Armed Forces (JAF) and Public Security Directorate (PSD) personnel to mainstream gender across all security sector activities.
Developed jointly by the Jordanian National Commission for Women (JNCW) and UN Women, this report aims to present a critical evaluation of the recent macroeconomic and fiscal policy interventions in Jordan, in particular the tax reform, from a gender perspective. This report is generously funded by the Governments of Finland, France, Iceland, Italy and Zonta International, as well as UN Women National committees.