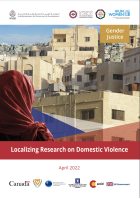 Given the importance of nurturing the role and capabilities of local civil society institutions, especially those run by women leaders, in monitoring and analyzing the reality of their communities and the environment regulating their work, all of which qualify them to engage in sensitive issues such as social and domestic violence, this report, in which 11 organizations participated, seeks Civil society members of the Jordan National NGOs Forum (JONAF) to research domestic violence from a societal perspective.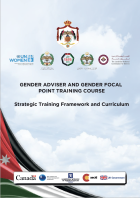 The training course on Gender Advisers (GENAD) and Gender Focal Points (GFP) in the Jordanian security sector is an essential element of developing the capacity of Jordanian Armed Forces (JAF) and Public Security Directorate (PSD) personnel to mainstream gender across all security sector activities.
Conversations about localisation of humanitarian action(1) tend to inspire everything from optimism to a sense of frustration and resignation – from actors involved at all levels. Humanitarian action at large has been a predominantly international endeavour, where power lies with donors, UN agencies and large international NGOs...