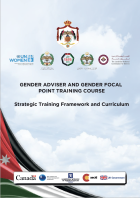 The training course on Gender Advisers (GENAD) and Gender Focal Points (GFP) in the Jordanian security sector is an essential element of developing the capacity of Jordanian Armed Forces (JAF) and Public Security Directorate (PSD) personnel to mainstream gender across all security sector activities.
The threat of climate change is growing, affecting in particular those countries most prone to drought and desertification. Jordan recognized this risk and has been taking active measures to combat the effects of climate change. Yet in highly exposed rural and agricultural communities, Jordan is missing out on a strategic partnership with women, who have a significant role to play in addressing climate change, building capacities for adaptation and strengthening local community resilience.
This study aims to increase the understanding of women's access and participation in the agricultural sector, rural institutions and community life. Between January and July 2017, REACH, in collaboration with UN Women, conducted an assessment on rural women and their role in the agriculture sector in four governorates across Jordan. The assessment sought to improve understanding of rural women's role in the agricultural sector and of their leadership and community involvement, their specific activities and working conditions as well as challenges to their participation and compensation in the sector.