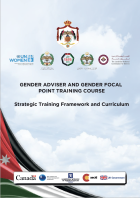 The training course on Gender Advisers (GENAD) and Gender Focal Points (GFP) in the Jordanian security sector is an essential element of developing the capacity of Jordanian Armed Forces (JAF) and Public Security Directorate (PSD) personnel to mainstream gender across all security sector activities.
This research uses participatory methodologies to explore the experiences of diverse crisis-affected women around gender-transformative change in four humanitarian settings in Bangladesh, Colombia, Jordan, and Uganda. The study provides entry points and recommendations for Grand Bargain signatories to move towards gender-transformative humanitarian action by enhancing women's meaningful participation in humanitarian responses, and the localization of humanitarian action to women's rights organizations and self-led groups.
Since March 2011, the internal armed conflict in Syria has displaced more than 4 million people within Syria and forced another 1.5 million to seek refuge in neighboring countries. As of May 2013, Jordan hosts more than 470,000 Syrian refugees, a number that has increased exponentially during the first three months of 2013 as the conflict has intensified and expanded to major cities throughout Syria.