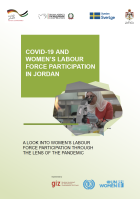 This study examines the effects of the COVID-19 pandemic on women's employment in Jordan, while investigating employers' willingness to hire women and women's motivation...
This research uses participatory methodologies to explore the experiences of diverse crisis-affected women around gender-transformative change in four humanitarian settings in Bangladesh, Colombia, Jordan, and Uganda. The study provides entry points and recommendations for Grand Bargain signatories to move towards gender-transformative humanitarian action by enhancing women's meaningful participation in humanitarian responses, and the localization of humanitarian action to women's rights organizations and self-led groups.
This report tells UN Women's story over the period 2019–2020. It shares how we and our many partners are striding forward to realize a better world for women and girls—one of equality and empowerment. Looking forward, we will draw on our full resources and experiences in protecting and advancing the rights of all women and girls. That is what we do and who we are, as a leader, mobilizer, convenor, provider of programmes, and partner for change.