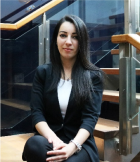 Like many young Jordanians, 27-year-old Nermeen Khalil Hasan Ballan had a hard time finding work, despite her diploma in architectural engineering. The job market was fierce, with many employers requiring years of work experience she didn't have.
ordanian National Commission for Women (JNCW) and the National Coalition, with the support of UN Women, ended a series of trainings to support potential women candidates in the upcoming parliamentarian elections through the campaign on promoting women's political participation in the upcoming parliamentary elections.
More than 5,000 Syrian women and girls visit 'Oases' safe spaces in the Za'atari camp per month, and several hundred have independently earned incomes through UN Women's work programme in Jordan.