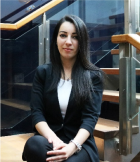 Like many young Jordanians, 27-year-old Nermeen Khalil Hasan Ballan had a hard time finding work, despite her diploma in architectural engineering. The job market was fierce, with many employers requiring years of work experience she didn't have.
Within the framework of joint efforts in the field of social protection and to support survivors of violence, the Public Security Directorate (PSD) and the United Nations Entity for Gender Equality and the Empowerment of Women (UN Women) strengthened their partnership to respond to the COVID-19 outbreak, mitigate its impact and to protect the community from virus transmission. With the generous support of the Governments of Canada, Finland, Norway, Spain, and the United Kingdom...
More than 5,000 Syrian women and girls visit 'Oases' safe spaces in the Za'atari camp per month, and several hundred have independently earned incomes through UN Women's work programme in Jordan.