UN WOMEN AND THE ROYAL FILM COMMISSION –JORDAN LAUNCH THE 10th EDITION OF THE WOMEN'S FILM WEEK
Date: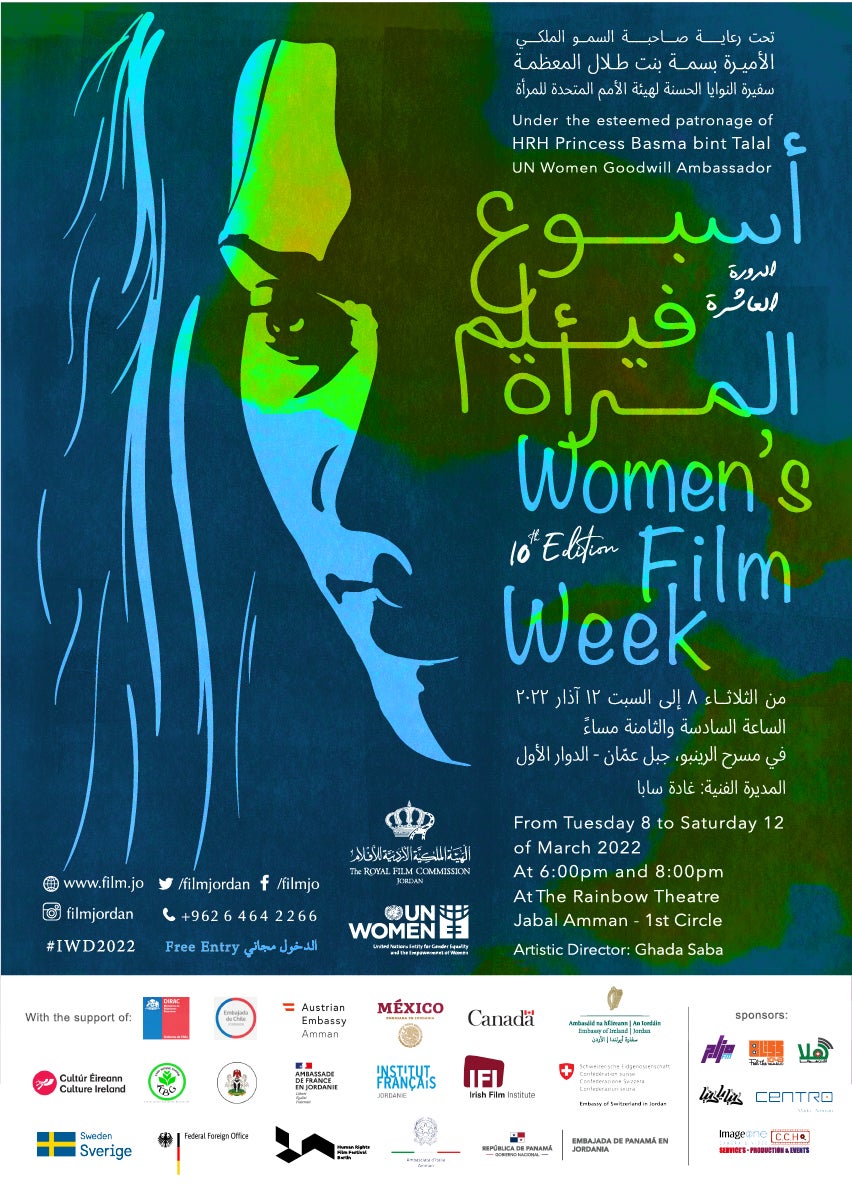 Under the esteemed patronage of Her Royal Highness Princess Basma bint Talal, UN Women Goodwill Ambassador, in partnership with the Royal Film Commission – Jordan and the artistic direction of Ghada Saba, movie director and TV anchor, UN Women is organising the 10th edition of the Women's Film Week to commemorate the International Women's Day (8 March 2022). Since 2012, this initiative offers a unique opportunity for the public in Jordan to see and reflect on women's issues, as portrayed through the work of various national and international filmmakers. 
From 8 to 12 March 2022, public screenings (free entry) will take place at the Rainbow Theater in Jabal Amman at 6pm and 8pm, showcasing powerful stories on women's rights and potential of women's leadership on climate change adaptation, mitigation, and response, to build a more sustainable future for all.
This initiative is generously supported by the Embassies of Austria, Canada, Chile, France, Germany, Ireland, Italy, Mexico, Nigeria, Panama, Sweden, Switzerland, an individual Egyptian submission, The French Institute of Jordan and Ireland Film Institute. Official sponsors of the event include Centro by Rotana, Hala FM, Bliss FM, Mazaj FM, Image One and "Donya ya Donya" (a program/show on Roya TV).
Brochure available here.
Media Advisory available in Arabic here.
International Women's Day:
The theme for International Women's Day, 8 March 2022 (IWD 2022) is "Gender equality today for a sustainable tomorrow", which is aligned with the priority theme of the 66th session of the Commission on the Status of Women, "Achieving gender equality and the empowerment of all women and girls in the context of climate change, environmental and disaster risk reduction policies and programmes".
For media queries please contact:
Susan Al Hilo
UN Women Jordan Country Office
Tel: +962 0790919680
Email: [ Click to reveal ]
Marian Nakho
The Royal Film Commission – Jordan
Tel: +962 797557116
Email: [ Click to reveal ]