UN Women and GIZ, in collaboration with the Ministry of Labour, launch report on the impact of COVID-19 on the economic participation of women in Jordan
Date: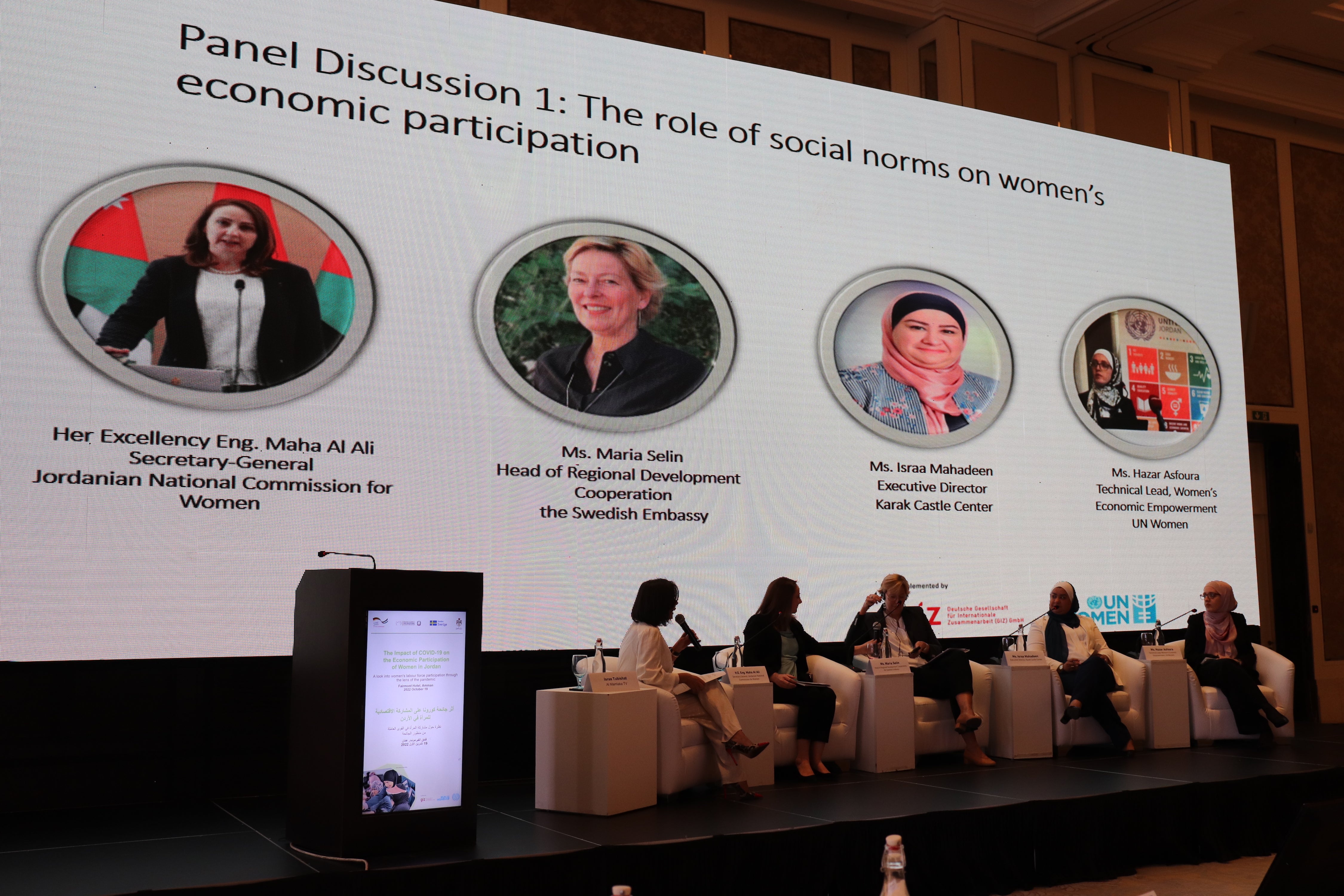 Under the patronage of H.E. Mr. Nayef Stetieh, Minister of Labour, the Deutsche Gesellschaft für Internationale Zusammenarbeit (GIZ) GmbH and UN Women organised an event on Wednesday, 19 October 2022, to launch a report on the impact of COVID-19 on the economic participation of women in Jordan and discuss its main findings and recommendations of a study. 
The report was prepared by the Centre for Evaluation and Development for GIZ and UN Women, with the generous support of the German Federal Ministry for Economic Cooperation and Development (BMZ), the Italian Agency for Development Cooperation (AICS) and the Swedish International Development Cooperation Agency (Sida).
The event was attended by H.E. Mr. Farouk Hadidi, Secretary General of the Ministry of Labour, H.E. Eng. Maha Ali, Secretary General of the Jordanian National Commission for Women (JNCW), Ms. Kordula Mehlhart, Head of Development Cooperation at the German Embassy in Amman, Ms. Elisabeth Girrbach, GIZ Jordan Country Director and Mr. Nicolas Burniat, UN Women Representative, as well as representatives of the Government of Jordan, international development partners, private sector and non-governmental organisations.
While low female labour force participation in Jordan has been documented for decades, the COVID-19 pandemic has exacerbated this further. In the second quarter of 2022, the unemployment rate in Jordan was 22.6 percent, according to the Department of Statistics, with female unemployment at 29.4 percent and male unemployment at 20.7 percent.
The event provided an opportunity for policy makers, civil society representatives, the private sector and development partners to discuss long-standing and emerging barriers, opportunities and policy implications related to women's labour force participation in Jordan, including panels specifically around raising awareness to change harmful gender norms which adversely affect women's economic participation and creating gender-inclusive work environments. The findings and recommendations of the study presented in the event show how the pandemic has aggravated the economic crisis and brought new challenges to the labour market. 
Mr. Farouk Hadidi, Secretary General, Ministry of Labour, said, "Unemployment is concentrated, by large, among women in Jordan and across different governorates. This requires all parties to work collaboratively, the government, the private sector, local community organizations, and donor countries, to resolve this issue. The representative Jordanian government, through the national program for employment, which is implemented by the Ministry of Labour, provided around 5050 job opportunities for women, i.e., 57 percent of all job opportunities provided, which amount to nearly 9000 job opportunities within the program, and that is during the last 5 months.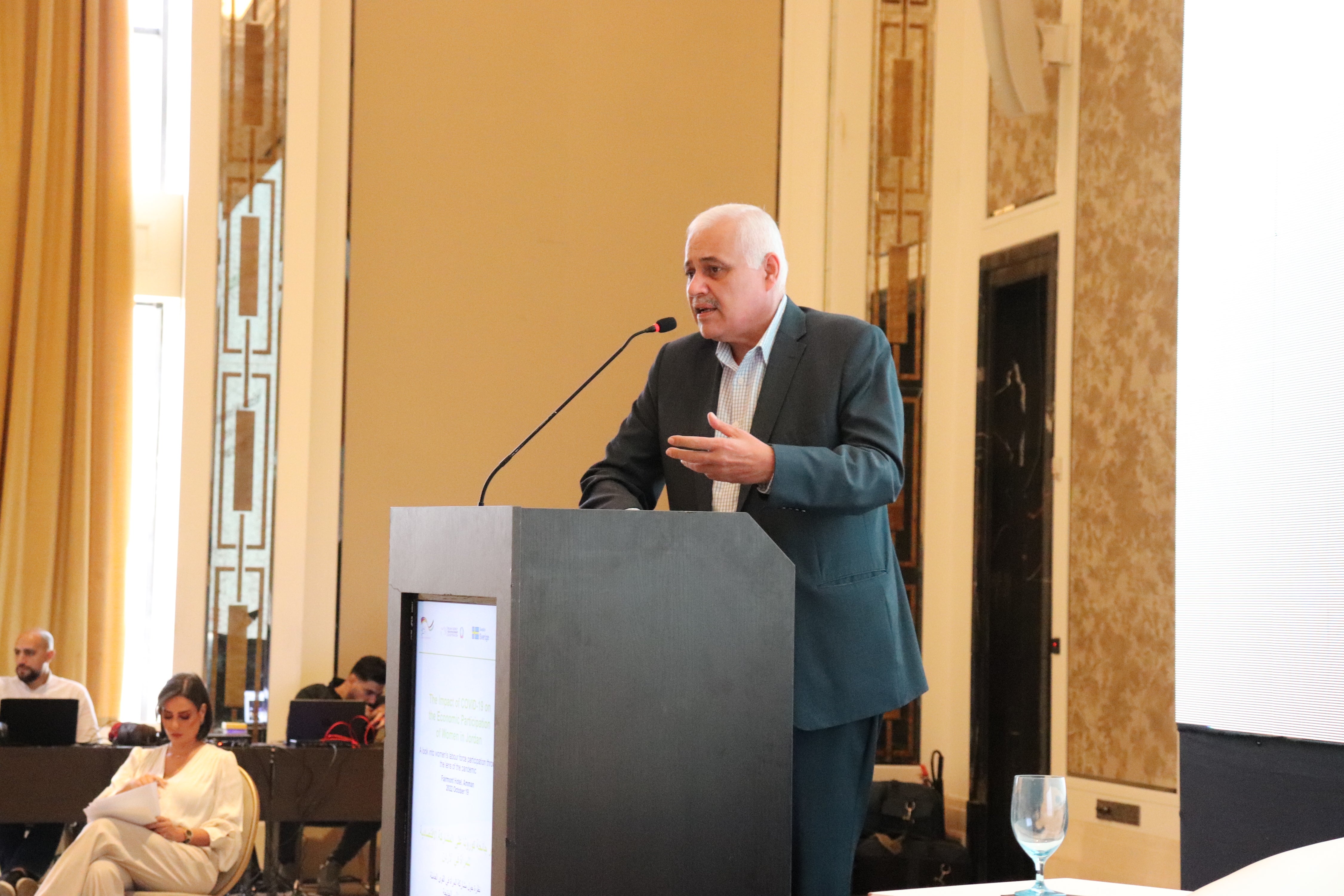 He noted as well that there are requirements that must be met in the work environment in order to increase women's participation in the labour market, especially that which is related to providing a transportation network that serves all areas to guarantee women can reach their workplace safely and comfortably. Also, providing a decent and appropriate work environment will help increase the rate of women's participation in the Jordanian labour market across different sectors and economic activities.
H.E. Eng. Maha Ali, Secretary General of JNCW, stated that despite Jordan's progress in the Global Gender Gap Index from ranking at 138 in 2020 to 131 out of 156 countries in 2021, women still suffer from a set of challenges that impede their access to equal opportunities and the full realization of their human rights without discrimination or violence.
She added that the JNCW works in accordance with the axes of the National Strategy for Women in Jordan 2020-2025, which aims to contribute to raising the rate of economic participation of women, in order to ensure the achievement of equity and equality of rights, to contribute to the creation of a women-friendly work environment, to support positive social norms, attitudes, and roles for gender equality and women's empowerment, through the implementation of joint programmes and projects with official and civil government agencies.
Ms. Kordula Mehlhart from the German Embassy in Amman said, ''Women are key for sustainable development. We work together with the Government of Jordan to address structural challenges of the labour market and its institutions to improve the economic participation of women in Jordan. Unlocking women's potential can contribute to boosting economic growth from inside the society."
"UN Women is committed to continuing supporting the Government of Jordan in its efforts, together with the Ministry of Labour, the Inter-ministerial Committee for Women's Empowerment and the Jordanian National Commission for Women, to ensure that plans developed to operationalize the Economic Modernization Vision mainstream gender equality and the participation of women in the economy and actively support women's labour force participation as a driver and accelerator for the reform," said Mr. Nicolas Burniat, Representative of UN Women in Jordan. 
In a panel on the role of social norms in women's economic participation, Ms. Maria Selin, Head of Regional Development Cooperation at the Swedish Embassy in Amman, stated that "A vital starting point for increasing women's economic participation is to work with men to address the double burden of care-giving and paid work. Societies can only fully prosper when women and men have equal opportunities to combine work with family life."
Key recommendations emerging from the study highlight the need to position women at the centre of economic recovery plans, increase efforts to engage all segments of society in addressing restrictive gender roles and stereotypes, prevent and address harassment of women in public and in the workplace,  strengthen capacities of businesses to provide resources to ensure gender-inclusive work environments, establish programmes for the sectors and governorates most affected by the pandemic, and launch initiatives to reintegrate women who had lost their jobs during the pandemic back into the labour market.
The event emphasized that Jordanian women are well-educated and represent a crucial resource for the economy which is still significantly underutilized. Economic growth in Jordan can be sustained through their better economic and social integration.
####
Available in Arabic here.