UN Women empowers women in public service to access leadership positions
Date: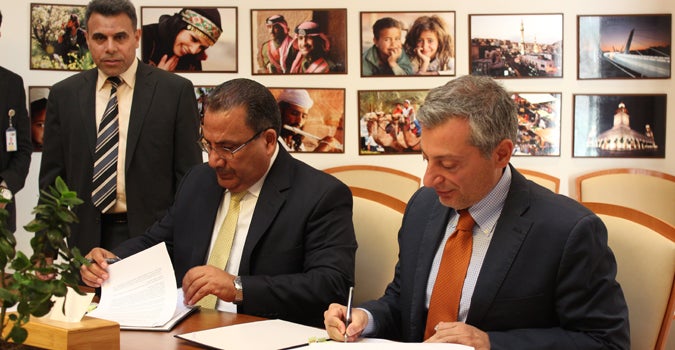 Amman, 24 May 2016. UN Women, in partnership with the Ministry of Public Sector Development and the Greater Amman Municipality, launched a series of trainings for women in public service working in the Greater Amman Municipality. Despite women constituting a significant part of the overall public sector workforce in Jordan they remain, woefully under-represented in managerial roles. Within the framework of the regional programme 'Mixity and Leadership' generously funded by the Government of France, these capacity building opportunities aim to promote women's leadership and access to decision-making positions in the public sector.
His Excellency Dr. Khleif Al Khawaldeh, Minister of Public Sector Development, His Excellency Mr. Akel E. Biltaji, Mayor of Amman and Mr. Giuseppe Belsito, UN Women Jordan Representative, attended the launch event. This initiative complements a series of trainings organized by UN Women in collaboration with the Jordanian National Commission for Women and the Institute of Public Administration earlier this year, which empowered 160 women in public service across various institutions and Governorates of Jordan.
As part of UN Women regional efforts to mainstream gender equality in leadership development in the region, a delegation of Jordanian civil servants is currently participating in a study trip in Rabat, Morocco as an occasion to exchange expertise and good practices in advancing women's access to governance bodies.