Stitching Hope: Taghreed's Oasis Centre Journey
Date: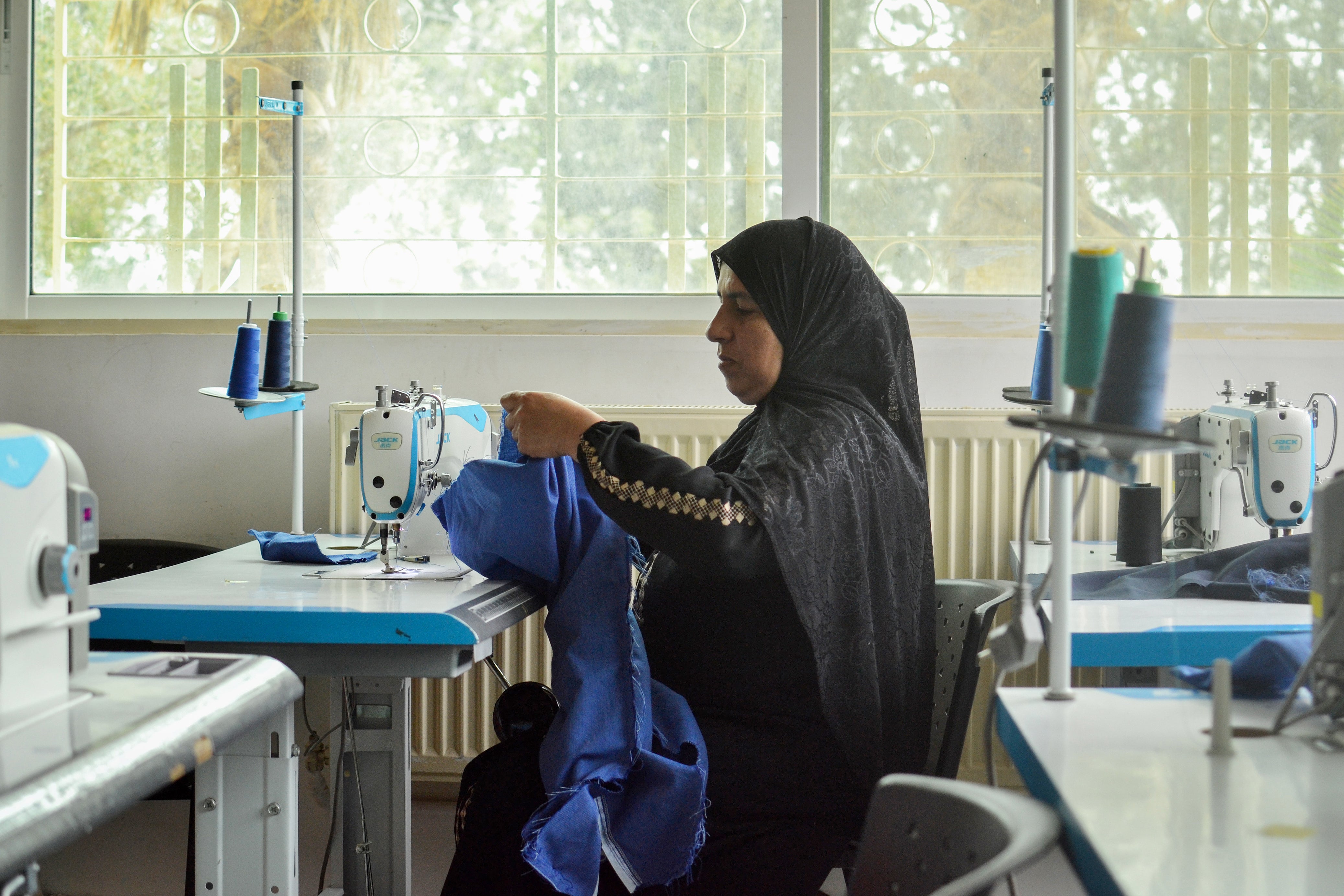 At the Muwaqqar Oasis Centre in a village located at 30 km south east of the Governorate of the capital Amman, under The Resilience and Empowerment of Vulnerable Women: The Future of Jordan's Growth and Stability project, funded by the European Union through the Regional Trust Fund in Response to the Syrian crisis, the Madad Fund and in partnership with the Ministry of Social Development, Taghreed Al-Issa's story unfolds. Taghreed embarked on a transformative journey that began when she relocated from war-torn Syria to Jordan in 2013. It all started when Taghreed became a part of the Oasis Centre community, enrolling in a Sewing course that would prove to be the foundation of her transformation.
Women in rural households and communities still face structural barriers and discriminatory social norms that constrain their decision-making power and political and economic participation. They also lack equal access to productive resources and assets, public services, such as education, health care, and infrastructure. This course equipped Taghreed with essential skills, allowing her to secure income at a crucial time when her husband faced illness and couldn't work. The income she earned provided her with stability and enabled her to support her daughter's university education, with hopes of doing the same for her other daughter. 
"We chose to live in Al-Muwaqqar due to the low rent prices compared to the city." Taghreed answered on why they chose Al-Muwaqqar to live in. 
"Women here are ambitious, they love to learn and improve themselves. I learned many new techniques during the course, which made me a better tailor and improved my business. My personal growth has been remarkable; I feel more confident now. The Oasis Centre has truly transformed me," Taghreed reflects. 
The overall goal of the project is that more vulnerable Jordanian women and Syrian women refugees are better served by humanitarian action and resilience-building initiatives in Jordan. Since late 2021, UN Women Jordan has been working on redesigning the Oasis model, with focus on maximizing project synergies for transformational impact, enhancing the quality of interventions, and increasing investment in inclusive national systems for deeper impact and sustainability. 
"The lack of a good public transportation system restricts women in this area to commute. I have to walk for 30 minutes to get to the centre, but I have no other option. I had the opportunity to work in the city, but I couldn't accept the job because of the public transportation availability. This is also a challenge for all women here; it hinders their ability to succeed and thrive." 
Taghreed first learned about the centre when she brought her daughter, who has a disability, to a course held in the same building. Intrigued by the centre's offerings, she inquired about it from other enrolled women and decided to register herself. 
"The decision to register was challenging, as I have a daughter with a disability who requires constant care. However, with the help of my other daughters I was able to register and be part of the Oasis centre". " Taghreed shares.
Initially enrolling in just one course, Taghreed now considers the centre as her second home, and the people there as her family. Over the years, she has not only grown personally but also developed impressive skills, eventually becoming a trainer herself.
The Oasis centres have evolved over time benefiting a total of 3,599 vulnerable Jordanian and Syrian, Yemeni, Sudanese and Palestinian refugee women by end of 2022. They have become multi-sectoral service centres focusing on resilience and empowerment for women and girls, while also engaging men and boys in dialogue and mobilization for gender and social equality. The Oasis model has been recognized as highly successful by international and national actors. Since launching in 2012 with one Oasis in Zaatari, UN Women Jordan has now expanded to four Oases in camp settings and eighteen centres in non-camp settings by the close of 2022. 
"I am extremely thankful that I no longer have to rely on my neighbours for financial support or defer supermarket payments. Life was very tough before I joined the Oasis Centre and started earning a salary.  Additionally, the course helped me become a better tailor, leading to the expansion of my business." 
In rural areas, women face economic challenges that often restrict their access to economic opportunities and resources, perpetuating a cycle of financial vulnerability which demands their resilience and determination. Women like Taghreed eagerly strive to break barriers that restrict them from securing a brighter future for themselves, their families, and their communities.  
"Having witnessed the impact of the course on my life and the positive changes it brought, I totally recommend it to every woman I know. I also advise any unemployed woman to pursue their passions and find ways to work from home. It not only provides a source of income but also serves to release stress and anxiety, discover one's self-worth, and foster self-belief," Taghreed passionately states. 
Looking to the future, Taghreed dreams of expanding her business further and supporting her daughter in continuing her studies.
Available in Arabic here.