Turning the Impossible into Reality: Duaa's Journey Back to Work
Date: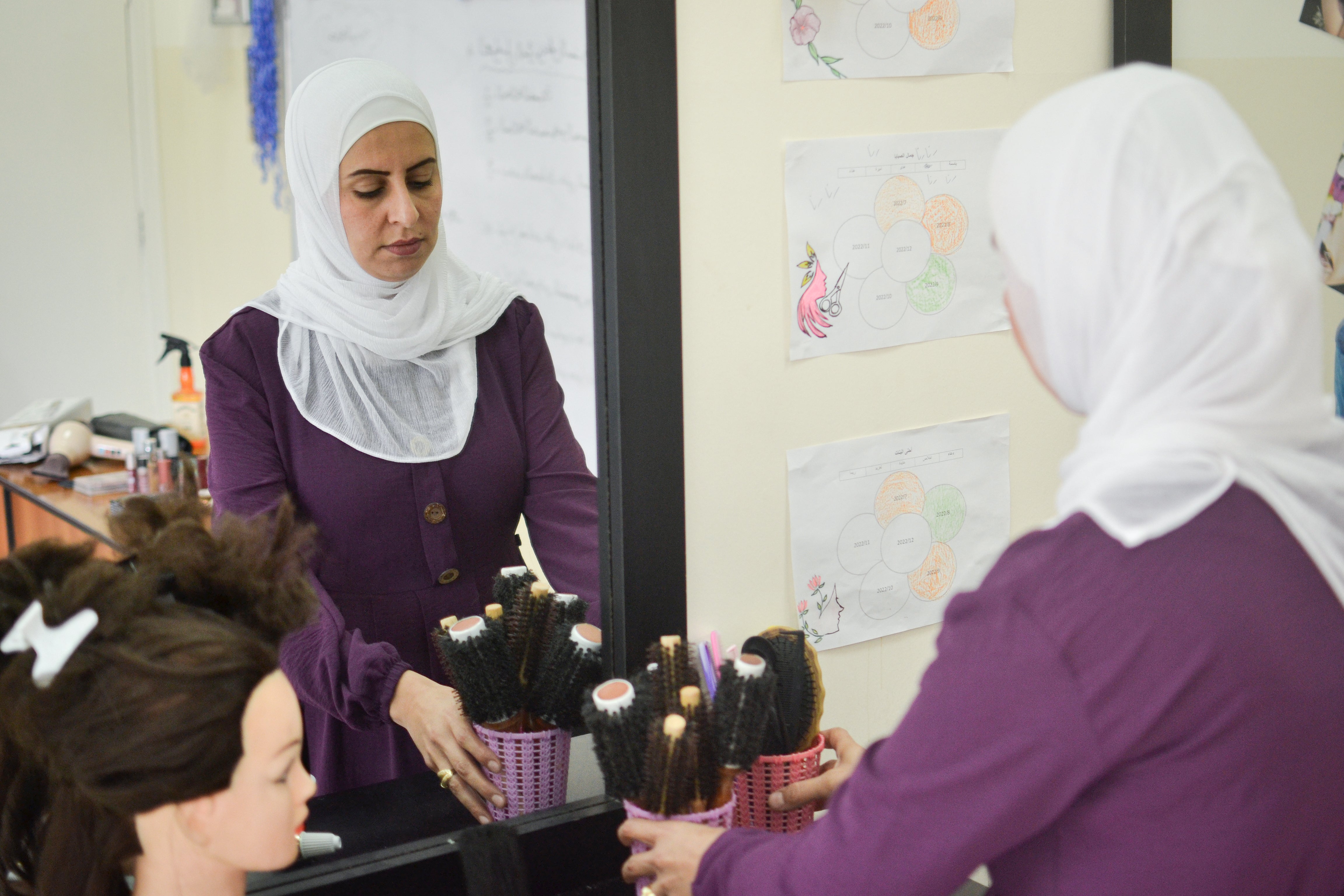 Dua'a Al-Omari, a 38-year-old Jordanian mother of three children, embarked on a transformative journey through the Hairdressing Training programme at the UN Women operated Oasis centre in Madaba. This opportunity allowed her to integrate into the workforce after a pause in her educational journey. Her determination, combined with the support of her family, enabled her to balance her enrolment in the training with her responsibilities at home. This life-changing path was made possible through the Oasis centre, a safe space funded by the European Union through the Regional Trust Fund in Response to the Syrian crisis, the Madad Fund, in partnership with the Ministry of Social Development.
Dua'a reflects on her initial encounter with the Oasis centre, saying, "I discovered the Oasis centre through a Facebook advertisement. To join, I had to submit a form along with personal documents, followed by an interview that ultimately welcomed me into the course."
"Luckily, I encountered no significant challenges during my time in the course. My family's support was invaluable; they helped me tremendously. It was a remarkable and transformative experience. I hope to have more opportunities like this in the future with the Oasis centre," shares Dua'a.
The Oasis centre, fortified by EU funding and collaboration with the Ministry of Social Development, has reshaped lives.
Dua'a's story shows this transformation, as she elaborates, "This experience brought significant changes in my life. On a personal level, I had the privilege of meeting inspiring individuals who provided me with unwavering support, including our facilitators at the centre, who were truly motivating. On a professional level, I gained a growing customer base, and the income I earned during that period significantly contributed to my family's financial well-being. Additionally, I became more integrated with the women in my community, and people now recognize me for the work I do and my unwavering dedication."
She further reflects, "I learnt numerous new skills, and the psychosocial support sessions offered by the centre allowed me to express my thoughts and emotions more effectively. They empowered me and enhanced my self-esteem."
Dua'a's journey, along with those of many other women, serves as proof of the Oasis centre's impact. Her advice to women is to prioritize self-care, invest in their well-being, and allocate time and energy to self-improvement and education. These efforts collectively contribute to personal growth and improvement.
As she envisions her future, Dua'a shares her dreams, "My dream is to establish my own business, ensuring a stable source of income for myself and my family. I also aspire to provide my children with the finest education. Achieving these dreams demands hard work and dedication, and I hold hope that one day they will become a reality."