From where I stand: "The Oasis Centre has now become a place where I can release my energy"
Date:
Through her work experience at the UN Women's Oasis Centre in the Azraq refugee camp, 29-year-old Marwa Barakat has gained confidence, independence and financial stability. The Oasis model for women's resilience and empowerment was developed by UN Women and the Ministry of Social Development with significant funding and contributions from the European Union, including in the model's extension to community centres and related policy dialogues.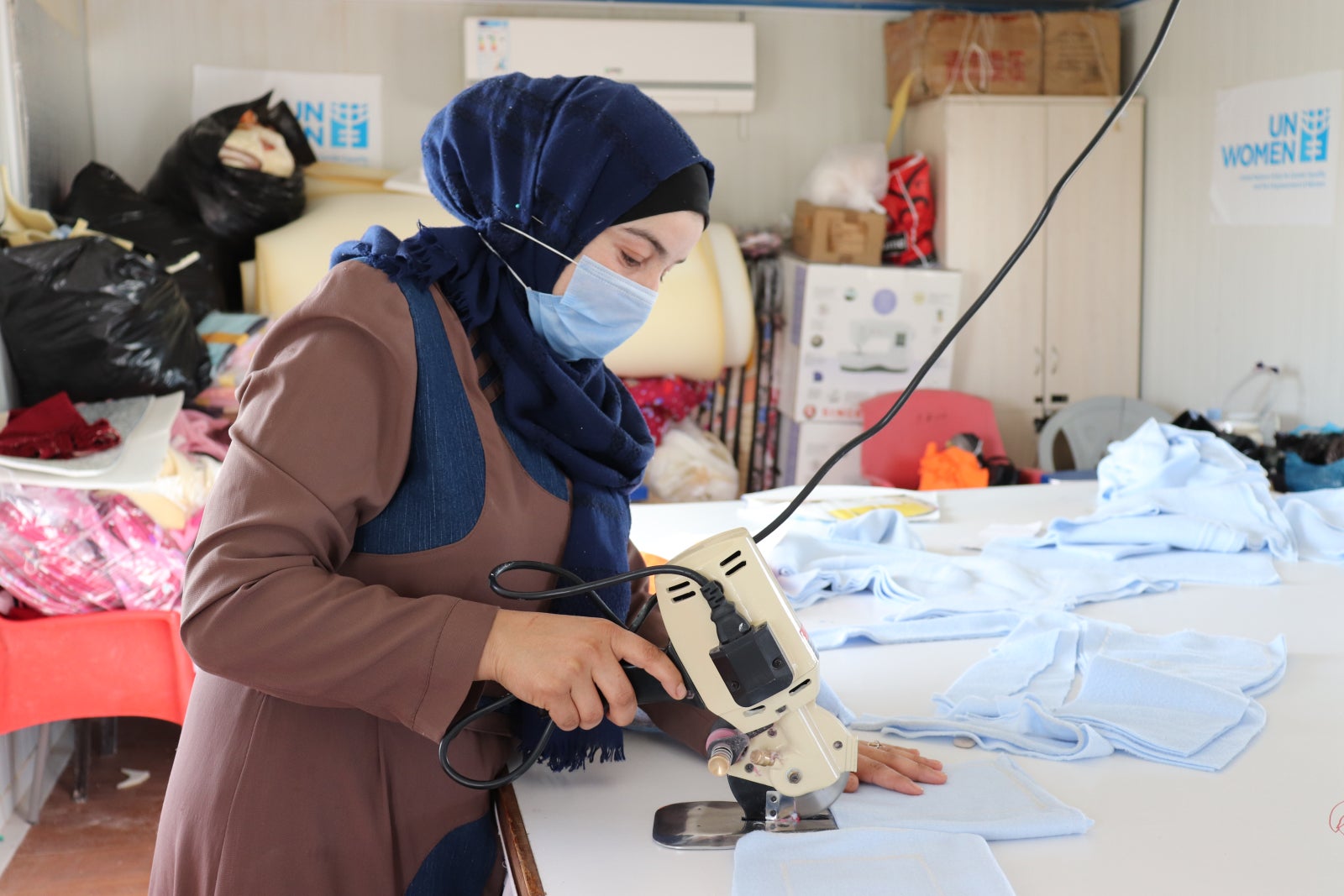 "I arrived in the Azraq camp in 2016, with my mother-in-law and my three children. The situation in Syria was very difficult and dangerous, and the passing of my husband in 2014 put more responsibility on me to look after our family. We heard that Jordan was providing services to Syrian refugees, which led our family to leave Eastern Ghouta, Syria.
Before my husband passed away, I had no work experience. However, after I became a widow and the sole provider of my family, I worked at a cheese factory for one year until I was able to save enough money for me and my children to come to Jordan.
While we managed to arrive at the Azraq camp, the struggles did not end. I needed to find an opportunity in the camp to cover the expenses of my family. Luckily, I found an opportunity to work at the Oasis Centre, despite having only basic knowledge of tailoring and cutting. I quickly grasped the skills taught at the Oasis Centre, and now work in the tailoring sector to produce baby suits that are distributed inside the camp.
Raising my children on my own put a lot of stress on me, and as an introvert I did not have the courage to interact with others. However, the Oasis Centre has now become a place where I can release my energy. My experience at the Oasis Centre built my character and my self-esteem, [and willingness] to learn and interact with others. It is a place of comfort, a community that helps me relieve my stress and allows me to get a breath of fresh air. It feels like a home, a place where I rebuilt my new life. It made me feel more capable and empowered.
I tell the women that everyone who enters the Oasis benefits. Here, there is a sense of security, trust and community. We not only benefit financially, but also become self-confident and learn more about our rights as women. There are many things we were unaware of that we learned here. You give and you take with you."
---
Marwa Barakat, 29, is a trainer and master cutter in the tailoring sector at the Oasis Centre in Azraq refugee camp, Jordan, where she rediscovered herself and encourages other women in her community to follow her footsteps. Her work contributes to achieving Sustainable Development Goal (SDG) 5 on gender equality and women's empowerment, as well as SDG 8, which seeks full and productive employment and decent work for all. This work in Azraq Oasis Centre, implemented by UN Women, is funded by the European Union under the EU Regional Trust Fund in Response to the Syrian crisis.