From where we stand: Our journey of resilience and empowerment between two crises.
Date:
Ten years since the start of the conflict, with more than 5.6 million people fled Syria to neighboring countries and Jordan is currently hosting more than 747,031 Syrian refugees1. Women and girls have been disproportionately affected by the conflict and displacement, and they are now facing additional challenges due to the COVID-19 outbreak.
Since 2012, UN Women has been standing with refugees and their host communities, supporting more than 24,000 Syrian refugees and vulnerable Jordanian women per year to overcome hardship and strengthen their resilience through the Oasis centers in the Za'atari and Azraq refugee camps as well as in host communities managed in partnership with the Minister of Social Development. Each center offers access to multi-sectoral services including secure livelihoods opportunities, prevention and gender-based violence awareness services, education and civic engagement training; and key enabling services such as childcare and transportation.
On this World Refugee Day, join us as we bring you the voices of refugees and women in Jordan on their journeys towards empowerment.
Leena Ahmed Al-Faraj's journey to provide a sustainable livelihood for her family…
At 21 years-old, Leena Ahmed Al-Faraj escaped from the war in her hometown, Der Zoor in Syria and sought sanctuary within the Azraq refugee camp in Jordan. At that time, Leena faced the additional hardship of experiencing a miscarriage. Four years later, Leena decided to make a life on her own with her one-year-old son and set out to find a job opportunity to build a sustainable livelihood them both.
To support women like Leena, UN Women works in partnership with the Government of Australia and the World Food Programme (WFP) to provide 400 vulnerable Syrian refugee women every month with livelihood and skills building opportunities at the WFP-run Healthy Kitchens in the Azraq and Za'atari refugee camps.
"It is the first job that I have ever had, and it has made me feel incredibly empowered to be the sole provider for myself and my one-year-old baby."
"I feel blessed to be one of the people giving back to the community and provide children with these healthy snacks," says Al-Faraj. More than 29,000 children in the Azaq and Za'atari refugee camps are receiving healthy school snacks every day. Read Leena's story here.
Noor Ali Halam's* journey to end domestic violence…
War was not the only conflict that Noor had to face during her life, but also, a lifelong battle of being denied her own choices and rights. Despite escaping the conflict and undertaking the treacherous journey to Jordan in 2014, Noor felt trapped in a life where only her husband made decisions for her.
"I wanted to scream, 'No! This is not a life I wish to live!'."
Noor decided to leave her husband and sought refuge in the Azraq refugee camp. Home to 36,657 refugees, 1 in 4 households are headed by women2. Noor is one of them, and since 2017 she is the sole provider for her six children.
At the UN Women's Oasis centre, she was able to find her first job, access protection services, and undertake leadership and civic engagement training. Throughout her time at the Oasis centre, Noor rebuilt her life and relinquished the right to make her own choices. She is now using her new-founded confidence to inspire other women to do the same.
"It is time for women to make their own decisions! Being a refugee or not, every woman must have her own independence as she has the right to speak up for herself, to say no or to say yes, seizing her own future." Read Noor's story here.
Nahid Ali Albuhair's journey to empower women and girls through education…
In 2013, as the conflict rumbled Nahid Ali Albuhair's home in Rif-Dimashq, Syria, she gathered all of her strength to make the journey to Jordan with her sixty-year-old mother and two children. Days later, arriving in the Za'atari refugee camp, where 76,378 refugees reside, of which 19,243 are school-age children3.
"Fleeing my country, overcoming such difficult circumstances and building my new life as a refugee, did not take away my dream of becoming a teacher."
Nahid's passion for teaching roots back to her life before the conflict, where she obtained a degree from the University of Syria to become an Arabic literacy teacher. Eager to be back in the classroom again, Nahid applied and undertook a teaching position in the UN Women Oasis centre.
Nahid teaches Arabic literacy and classes to children from the ages of 3-10, at the UN Women Oasis Centre. For many female-headed households, limited childcare services remains a prevalent barrier for accessing job opportunities. Across the twelve Oasis centers, over 480 children access the childcare services daily, and more than 3500 vulnerable Syrian refugees have access to education opportunities yearly.
Today, Nahid is using teaching as a tool of empowerment, "I have realized that education is one of the most powerful tools to empower women and girls, as it can equip them with knowledge and skills, as well as with the confidence to stand up for their rights." Read Nahid's story here.
Ahmed Albalkhi's journey to becoming a women's rights and gender equality advocate…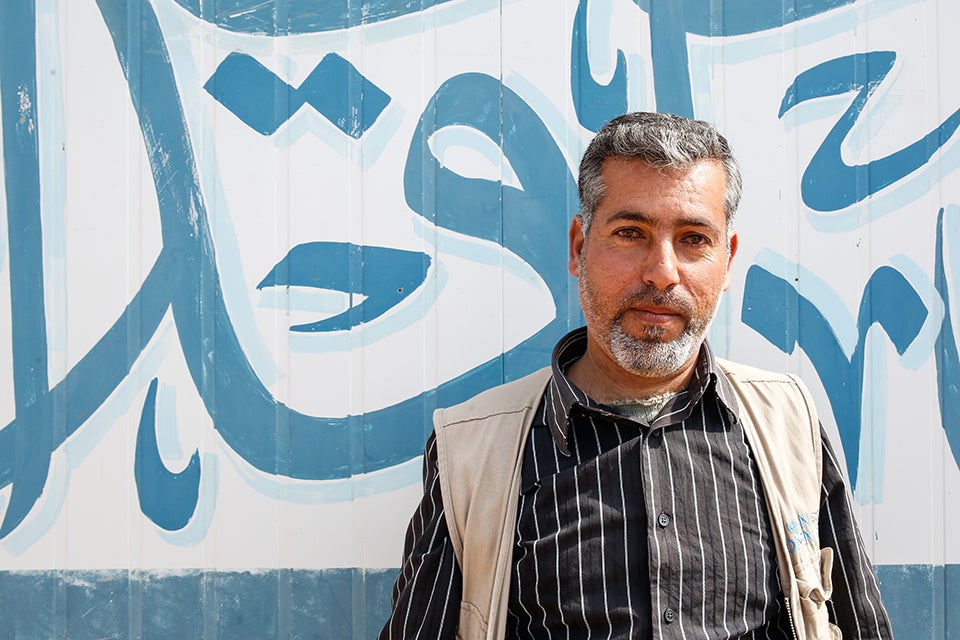 Ahmed Albalkhi, 40, was amongst the many that fled the war in Syria. "Millions of us experienced the same hardships, heartbreak, and pain," he explained.
In 2017, Ahmed enrolled as an incentive-based volunteer at the UN Women Oasis Centre as a Security Guard. It not only became a job for Ahmed but a learning experience, where he recognized the importance of empowering women and girls.
"I learned the terms, women's empowerment, and gender equality and understood them more concretely. In those moments of understanding and witnessing the strength of the women working in the Oasis, ultimately drove me to become an advocate for women's rights and empowerment."
At the centre, UN Women organizes regular training sessions engaging men and boys in preventing gender-based violence (GBV) and promoting dialogue on gender and social equality. Ahmed is one of 110 men who attended the regular sessions held in 2019, and has gone on to play a crucial role in changing social and cultural barriers, which inhibits women's empowerment in his community.
"Communities must come together, women and men, girls and boys, this generation and the next generation to ensure that we all have a brighter future and guarantee that all enjoy their rights." Read Ahmed's story here.
---

The UN Women's Oasis model is generously supported by the Governments of Australia, Canada, Finland, France, Iceland, Italy, Japan, the European Union through its Regional Trust Fund in Response to the Syria crisis (Madad Trust Fund), the Central Emergency Response Fund (CERF), as well as from Zonta International Foundation and UN Women National Committees.